Prestige Imports Volkswagen Wheel Alignment Services
Our dealership is located in Pleasantville, New York, and offers reliable Volkswagen servicing to residents of the area and its surrounding areas. We routinely provide Volkswagen four-wheel alignment services in our service center. There are a variety of reasons why customers visit our dealership for four-wheel alignment service. A four-wheel alignment is a routine maintenance service that will provide a variety of benefits to you and your vehicle.
4-Wheel Alignment Versus 2-Wheel Alignment
Four-wheel alignments and two-wheel alignments are two types of wheel alignments that you may hear about. A two-wheel alignment is a service where technicians adjust the front two wheels of a vehicle, as opposed to all four wheels. However, during a four-wheel alignment, service technicians adjust each of the four wheels on a vehicle. A four-wheel alignment is referred to alternately as an all-wheel alignment. We typically use four-wheel alignments for all-wheel-drive vehicles and vehicles that use independent rear suspension systems.
Routine Wheel Alignment Schedule
To keep the suspension system of your vehicle well-maintained, you should have the wheels of your vehicle aligned regularly. Many manufacturers recommend that drivers bring their vehicles in for wheel alignments at least once every year. However, the amount of time that a driver can travel between wheel alignment routines depends on their specific driving habits and vehicle. If you keep up with the maintenance of your vehicle's suspension system and regularly drive in areas then you may not need to have wheel alignments done as frequently on your vehicle. We recommend referring to your vehicle's owner's manual to help you determine what wheel alignment schedule will be the best for your Volkswagen model.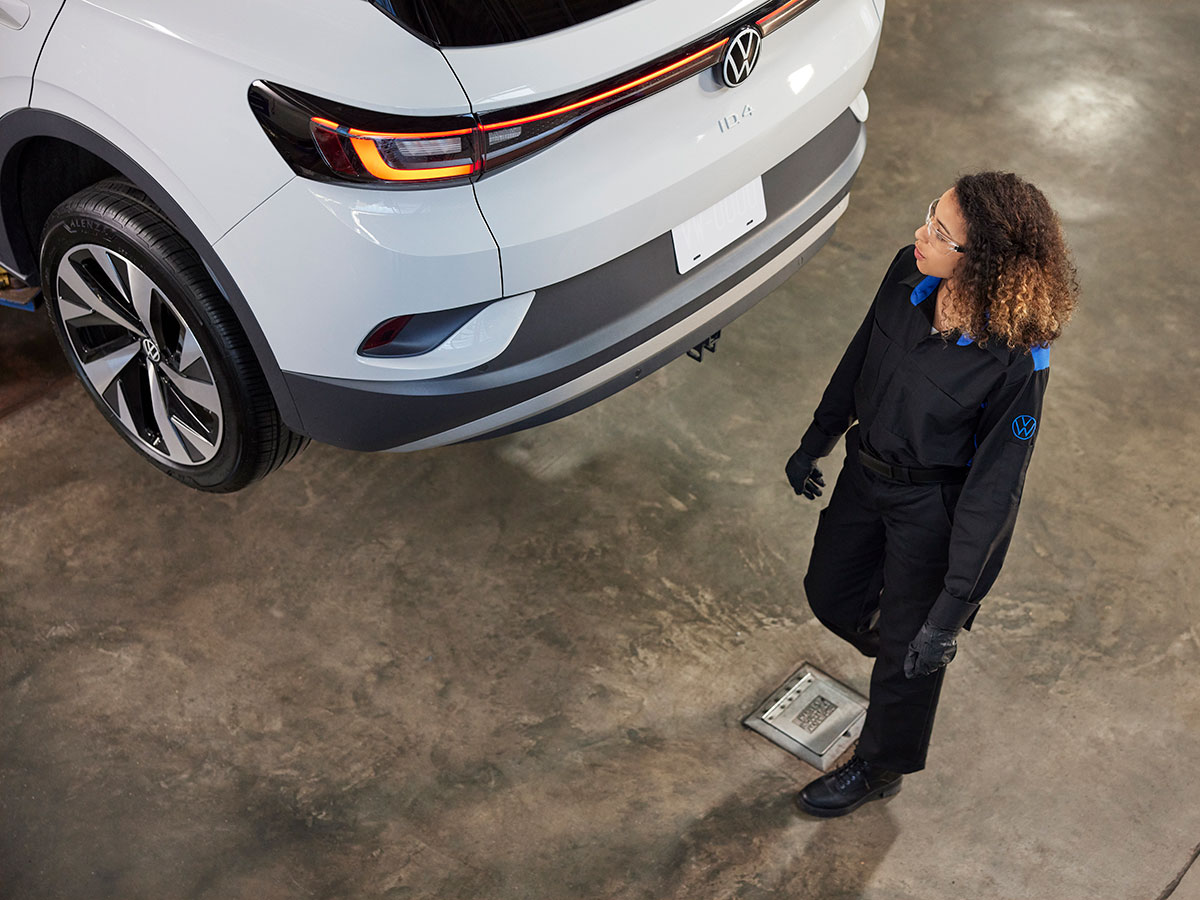 Wheel Alignment Savings
Wheel alignments can help you save a lot of money while increasing the safety of your Volkswagen vehicle. By having its suspension system returned to its factory specifications, your vehicle will handle much better and adapt to the road as it was designed to. Wheel alignments create balance within the suspension system of your vehicle, in turn, the balance reduces the stress that each component in the system faces, decreasing the wear across the suspension system. Lastly, wheel alignments can decrease the wear on your vehicle's tires as you drive.
Visit Our Dealership Today
We would love to service your Volkswagen vehicle at our dealership. If you are interested in a Volkswagen four-wheel alignment in Pleasantville contact a member of our dealership's team so that we can add you to our service schedule. Feel free to inquire about any of the additional Volkswagen products and services that we have to offer at Prestige Imports Volkswagen, our helpful staff members will be glad to provide more knowledge to you regarding what we have to offer.
Schedule Service
Prestige Imports Volkswagen Service Department Amenities
Free Wi-Fi
Complimentary Beverage & Coffee
Comfortable Waiting Area
Certified Technicians
State-of-the-Art Facility
Extended Hours
Saturday Service Hours
---