Brake Pad Replacement
You need to find the right spot for getting your brake system service done in Pleasantville. Come to Prestige Imports Volkswagen if you are a Volkswagen owner looking for a factory certified service center. At Prestige Imports Volkswagen, we're located at 44 Pleasantville Road in Pleasantville. We're a convenient spot for Pleasantville motorists. We're also convenient if you're located nearby. If you're in Thornwood, you can reach us in only around five minutes by taking Kensico Road and the Saw Mill River Parkway North. We're only six minutes from Chappaqua and nine minutes from Briarcliff Manor. We're also close by for motorists located in Hawthorn.
Volkswagen Brake Pad Replacement
When you apply your brakes, your brake pads are compressed around your rotors. This slows down and eventually stops your vehicle. As you use your brakes, your brake pads generally wear down. Eventually, you'll need new brake pads. Brake pad replacement is one of the types of brake service that is periodically necessary.
Reasons Why Getting New Brake Pads Is Important
If you don't get new brake pads when you need them, your brakes won't work as effectively as they should. Your vehicle may take longer to come to a stop. Another problem that could arise is damage to other brake components like your brake rotors. Faulty brake pads can damage the surface of brake rotors as well as other brake system parts like your calipers.
Front and Rear Brake Pads
The front brake pads on your vehicle model will usually be designed to be slightly larger than the rear brake pads. When you stop, more stress and pressure is put on your front brake pads than your rear brake pads. This makes it so that front brake pad replacement is necessary more often than rear brake pad replacement in a typical vehicle.
How Long Do Brake Pads Last?
Brake pad lifespans vary depending on whether the brake pad is positioned at the front or rear wheels. Brake pad lifespan can also vary depending on individual driving habits. Generally, brake pads should last somewhere between 25,000 and 50,000 miles.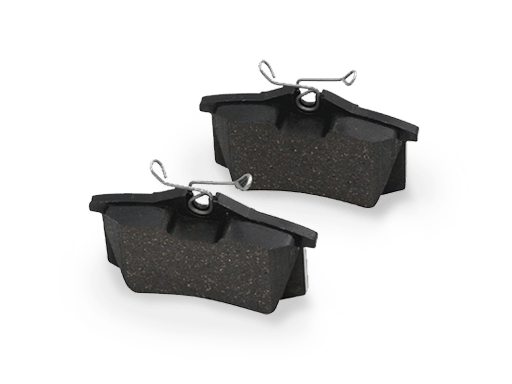 Service at Prestige Imports Volkswagen
Come to Prestige Imports Volkswagen to get your OEM Volkswagen brake pads in Pleasantville. You know you can expect quality work when you take your Volkswagen to a factory certified facility like ours for service. Do you need to schedule an appointment with Prestige Imports Volkswagen? You can give us a call at 833-841-7151 to set up your appointment time. If you prefer, visit our website. You can schedule an appointment on our website and also check out our various service specials.
Schedule Service
Prestige Imports Volkswagen Service Department Amenities
Free Wi-Fi
Complimentary Beverage & Coffee
Comfortable Waiting Area
Certified Technicians
State-of-the-Art Facility
Extended Hours
Saturday Service Hours
---